---
The Heritage District Finance Committee, under the leadership of District Superintendent Rev. LuAnn Rourke, uses district ministry shares to offer financial assistance and grants.  For questions or assistance contact Rick Gorham at [email protected].  Submit completed forms to Rick Gorham via postal mail: Rick Gorham, 13539 S. Rainbow Drive, Gregory, MI  48137, or email [email protected].
Application for Financial Assistance >>>
Application for Connectional Church Grant >>>
---
Heritage District Youth Ministry Discipleship Grants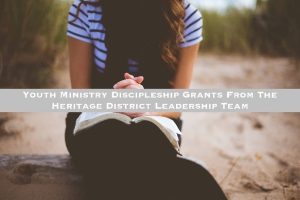 https://docs.google.com/forms/d/e/1FAIpQLScF4rzuRhm9BcKDmYshTKD9mY9ZHZig_UhhsRdkrrVjOIl3Vg/viewform
The Heritage District is pleased to offer grants for local United Methodist Churches in Michigan in the Heritage District. This grant is intended to provide support to local churches as they re-imagine faith formation with youth. Each church may receive one grant of up to $300. Grants may be used for supplies, curriculum, Lent/Easter/Summer programming, service projects, etc. that support or enhance creative faith formation. Contact Rev. Mary Hagley [email protected] for more information.
These grants are different from the Michigan Conference Discipleship Grants, which are still available here: https://link.edgepilot.com/s/4c54bc3d/tn9-d5wGXkudUdlLT5DqAA?u=https://michiganumc.org/resources/childrens-ministry-tool-box/